Announcements:
Events:
Dec
1
Fri
19th Annual Men's Spiritual Retreat

@ Saint Anthony's Retreat
Dec 1 @ 3:00 PM – Dec 3 @ 3:00 PM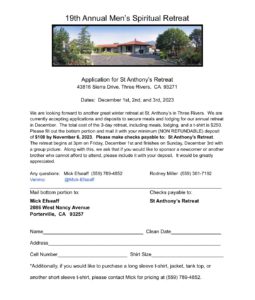 19th Annual Men's Spiritual Retreat Application for St Anthony's Retreat 43816 Sierra Drive, Three Rivers, CA 93271 Dates: December 1st, 2nd, and 3rd, 2023 We are looking forward to another great winter retreat at St. Anthony's in Three Rivers.  We are currently accepting applications and deposits to secure meals and lodging for our annual retreat in December.  The total cost of the 3-day retreat, including meals, lodging, and a t-shirt is $250. Please fill out the bottom portion and mail it with your minimum (NON REFUNDABLE) deposit of $100 by November 6, 2023.  Please make checks payable to: St Anthony's Retreat.  The retreat begins at 3pm on Friday, December 1st and finishes on Sunday, December 3rd with a group picture.  Along with this, we ask that if you would like to sponsor a newcomer or another brother who cannot afford to attend, please include it with your deposit.  It would be greatly appreciated. Any questions: Mick Efseaff (559) 789-4852 Rodney Miller (559) 361-7192 Venmo: @Mick-Efseaff Mail bottom portion to: Mick Efseaff 2086 West Nancy Avenue Porterville, CA 93257 Checks payable to: St Anthony's Retreat *Additionally, if you would like to purchase a long sleeve t-shirt, jacket, tank top, or another short sleeve t-shirt, please contact Mick for pricing at (559) 789-4852.
1st Friday Speaker Meeting

@ Porterville Twelve Step Recovery Club
Dec 1 @ 8:00 PM – 9:30 PM
August, 2023
Porterville Recovery Club Speaker Meeting
186 S D St Portervile CA 93257
Friday August 4th, 2023 at 8:00 PM
Speakers: David G (Grass)
Dec
2
Sat
Tulare County Bridging The Gap committee meeting

@ Zoom
Dec 2 @ 11:00 AM – 12:00 PM
Dec
4
Mon
Primary Purpose Group 12 Step Workshop – Mondays

@ Bridge Street Drunks Only
Dec 4 @ 6:00 PM – 8:00 PM
Primary Purpose Group 12 Step Workshop
For 24 weeks!
Every Monday
Starting October 16th, 2023
526 N Bridge St, Visalia, CA 93291
If you didn't get in at the beginning, you will need to wait until the next one starts.  If you want to observe to see what it is like, you are welcome to visit.
The A.A. Preamble
Alcoholics Anonymous is a fellowship of men and women who share their experience, strength, and hope with each other that they may solve their common problem and help others to recover from alcoholism. The only requirement for membership is a desire to stop drinking. There are no dues or fees for A.A. membership; we are self-supporting through our own contributions. A.A. is not allied with any sect, denomination, politics, organization or institution; does not wish to engage in any controversy; neither endorses nor opposes any causes. Our primary purpose is to stay sober and help other alcoholics to achieve sobriety.
Reprinted with permission of A.A.Grapevine, Inc
The Tulare County Central Office
This web site is maintained by the Tulare County Central Intergroup of Alcoholics Anonymous, located at 449 E. Maple St. Exeter, California. The Tulare County Central Office is funded by AA groups in the communities of Corcoran, Cutler, Dinuba, Exeter, Farmersville, Hanford, Ivanhoe, Lemoore, Lindsay, London, Pixley, Planiview, Porterville, Three Rivers, Tulare, Springville, Visalia and Woodlake.
Web site privacy policy: Tulare County Central Office collects no data from anyone visiting this web site who does not log in. No analytics: no tracking whatsoever. Your privacy and anonymity are important to us. Administrative users who log in will get cookies from the login page.